Vinyl Mastering
---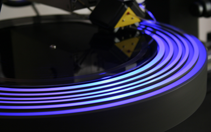 It takes a perfect master to make a great sounding record.
That's why our vinyl masters are cut here by vinyl mastering engineer Björn Bieber, on the revered Neumann VMS80. It is the most sophisticated lathe ever made; only a small number of Neumann's last generation lathes were ever built, and even fewer are in operation today. The VMS80 can cut longer sides, with higher level (which on vinyl translates to better signal to surface noise ratio), with better bass and a bigger stereo image than any other lathe.
We make sure your vinyl album or single will sound as good as it gets!